BY DEBRA KAMIN
Few patches of America have had a greater influence on pop culture than a storied 1.7-mile stretch of Los Angeles, where movie stars, mobsters and musicians all went to blow off steam. From Joe Dimaggio and Marilyn Monroe's first dates to John Belushi and River Phoenix's final speedballs, the sunset strip saw it all.
But every party eventually ends, and now Los Angele's most notorious revelry zone is focusing on the morning after. A crop of new luxury developments is cleaning up the sunset strip.
Some of them are rising from another era's ashes. At the corner of sunset boulevard and olive drive, on the same lot where the corrugated-metal house of blues stood before it face the wrecking ball in 2017, The Pendry West Hollywood and Pendry Residences West Hollywood by Montage Hotel and Resorts, a $500 million complex that will include a 149-room hotel, 40 private residences, a music venue and seven wolfgang puck-led restaurants, is scheduled to open in the coming months.
The Pendry Residences are designed by Ehrlich Yanai Rhee Chaney Architects, executed by Cuningham Group Architects and have interior by Martin Brudnizki Design Studio. An initial sales campaign was put on hold in the spring because of the Coronavirus pandemic, but the property is now open for letter of intent on a limited inventory release, and several units were sold over the summer, said Paul Stukin, head of sales for the project.
He expects significant interest this winter when a mix of featured residences will be released before opening.
"There are certain iconic places in Los Angeles that are grounded in the nostalgia of Hollywood," said Mr. Stukin. "You stand on the site, and you see the Chateau Marmont, the Sunset Tower, the Griffith Park Observatory, and it gives you that feeling that is very rare."
During a site visit in March, just before the pandemic hit, The Pendry was little more than a construction site.
We were standing in the central gallery of The Pendry's sales office, where a scaled architectural model of the project gleams inside its plexiglass case. Each guest is handed a coin to insert into a Moët Champagne vending machine, and a sliding door can be opened, with a flourish, to reveal a full-scale staged kitchen, bathroom and sitting room, complete with white oak floors and an Italian granite bar the color of the fresh cream.
The appeal of The Pendry Residences, said Mr. Stukin, is in line with a larger movement happening not just in and around the sunset strip, where five major residential projects are in development, but across all of Los Angeles. It's a rejection of the far-flung, car-dependent lifestyle that contributed to this city's notorious sprawl and once sent its residents literally running for the hills.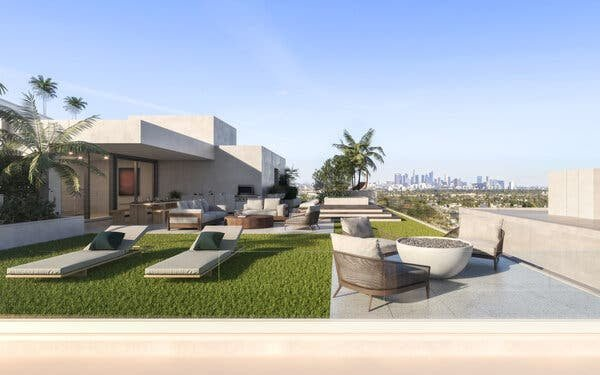 Pendry Residences West Hollywood is on the same lot where the corrugated-metal House of Blues stood before it was destroyed in 2017. Pendry Residences West Hollywood
"Hollywood is a company town, and I've spoken to buyers that when they started out here, they were either part of Hollywood or they were feeding Hollywood, so to speak, with their work," said Mr. Stukin. "They had this rock and roll Hollywood fantasy and then, like everyone else, they moved to Brentwood, or the Palisades, or Malibu or Calabasas. But now we're seeing that people want to move back into town. They want to be in a walkable area. they want to be in the center of everything."
In cities like New York or San francisco, real estate interest in the suburbs has surged since the pandemic erupted in march as residents have sought out more space. Los Angeles is different, said Stukin. "Compared to New York or London, we're a low-density major metropolitan city. So we don't have people fleeing here for space."
The Pendry West Hollywood will roll out its opening, starting with the hotel, in late 2020, followed by the residences early next year.
It will be followed by The Four Seasons Private Residences Los Angeles, a 12-story tower of 59 custom homes just across the West Hollywood border in Beverly Hills; a Frank Gehry-designed mixed-use project at 8150 Sunset Boulevard, whose plans include 229 apartments, including 38 low-income homes; a condo project by Olson Kundig architects at 8899 Beverly Boulevard where developers are rumored to want as much as $100 million for the penthouse unit; a members-only social club from Gwyneth Paltrow on Sunset Boulevard; and a space-age looking mixed-use project at the site of the viper room, the notorious Hollywood nightclub where River Phoenix died of a drug overdose in 1993. That project, from Morphosis Architects and Plus Development, will bring 115 more hotel rooms to the sunset strip, plus 31 condos and 11 affordable housing units.
Residential units at The Pendry Residences start at 2,300 square feet and $3 million. The penthouse will run in the $30-million range.
All units will feature custom kitchens, private elevator access and floor-to-ceiling windows, and several will have private terraced gardens, the largest clocking in at 3,400 square feet of outdoor space. Eight units will have outdoor jacuzzis and private outdoor pools, and all residents will have access to the private rooftop pool across the piazza at The Pendry Hotel, as well as perks including housekeeping, room service, a wine locker, bowling alley and gym.
In addition to the hotel and condos, The Pendry's developers are also counting on a third income stream — a large led billboard, hoisted up on the project's sunset boulevard-facing facade.
"Outside of Times Square, the strip is the most valuable outdoor advertising in America," said Warren Wachsberger, managing director of Aecom Capital, which is developing the project. "having that large-format digital signage on sunset boulevard really gives us an edge."
It's not just Mr. Wachsberger who thinks so; Netflix does, too.
In 2018, Netflix snapped up 35 billboards across two dozen structures along the sunset strip, reigniting interest in traditional advertising in the process and reminding Los Angeles that the allure of a name in lights and the power of old-school eyeballs were both still very relevant in this town.
"There are a lot of influential people on that thoroughfare, going from Hollywood to the west side," Mr. Wachsberger added. "It's created a demand, and now it's the billboard to have on the West Coast."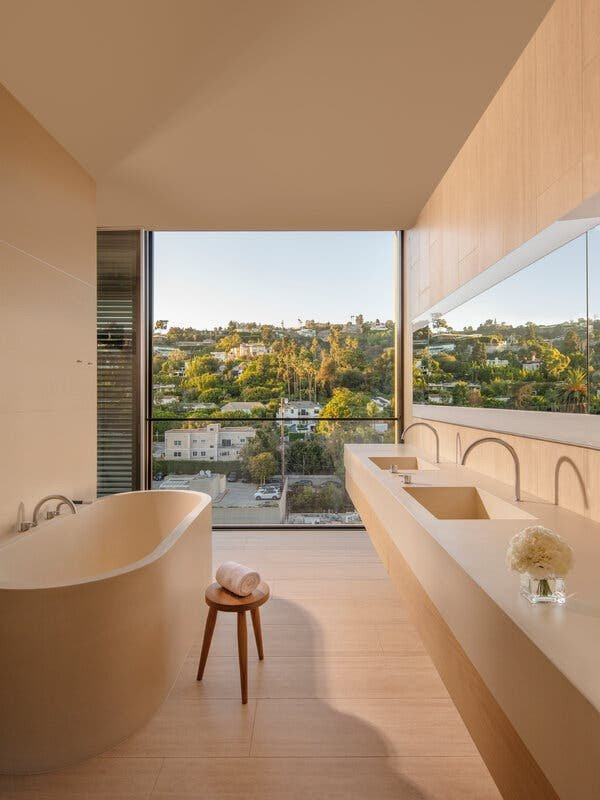 A master bathroom at The West Hollywood Edition, a sleek new complex on a corner of West Sunset Boulevard in Los Angeles comprising 190 hotel rooms, 20 residential apartments, a basement nightclub and a rooftop pool.
The Pendry team's ongoing optimism for sales is most likely derived from the success of a similar project that opened in November 2019.
The West Hollywood edition — a sleek, sexy complex comprising 190 hotel rooms, 20 residential apartments, a basement nightclub and a rooftop pool — sits at the corner of West Sunset Boulevard and North Doheny Drive, at the site of the former Scandia restaurant, a midcentury icon that opened in 1947 and served extravagant fare to Hollywood's most powerful players for decades.
The edition, from Steve Witkoff, a New York developer, was the first new project to open on the sunset strip in two decades. Behind it is the hotelier Ian Schrager, whose earlier projects include Studio 54, The Palladium and some of the world's earliest and most influential boutique hotels.
John Pawson, the London-based design architect, oversaw the edition's stark, minimalist aesthetic. An original Sterling Ruby mobile, "The Scale," greets visitors as they enter the lobby. The hotel reopened to the public on Oct. 1.
The residences at the edition, only a few of which now remain unsold, are priced between $4 million and $30 million and range from 1,600 to 6,400 square feet. All offer views of the Hollywood Hills and the Pacific Ocean.
Mr. Pawson said he once partied the night away himself on the sunset strip, many decades ago.
"I can't say I remember my time in those clubs well, but I did go to the odd one or two, a long time ago," he said in a phone interview from his London studio. "The strip has changed hugely, hasn't it?"
All new developments in West Hollywood are required to set aside 20 percent of their units for affordable housing, and they may also have to pay a fee.
The edition paid a fee of $2.2 million, and at The Pendry, developers paid a fee of $3.5 million and are also incorporating five units of affordable housing, which will be one-bedroom rental apartments.
"We all understand that very expensive housing units are going to happen, and they're certainly going to happen in a city like ours," said John D'Amico, a former mayor and current city councilmember of West Hollywood. "But we also want to make sure that working-class people, retired people and disabled people have an equal shot."
West Hollywood, said Mr. D'Amico, has been working to develop its housing stock for decades, both on and off the sunset strip. It's part of a plan, he said, to pay homage to the city's wild past while reasserting its relevance in a changed Los Angeles.
"Nostalgia is an anchor when I think about the sunset strip, but unless we face the fact that the 21st century is an actual new century filled with actual new ideas, we're not going to make a West Hollywood people are going to continue to be interested in," he said. "But one thing West Hollywood will never abandon is the idea of being a place to have a good time."
Correction: Oct. 7, 2020 An earlier version of this article incorrectly reported that John D'Amico is the mayor of West Hollywood. He is the former mayor.
Originally seen here.